When Manhattan transplant Keara Schwartz moved from her Over-The-Rhine apartment to a house in Hyde Park, she needed a lot more "stuff."
But she didn't necessarily want to buy things that she'd only use occasionally, like power tools or a snow blower or a ladder.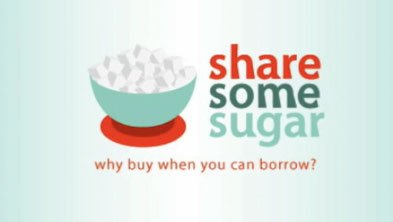 "There was so much stuff I need for a house. Every time I'd buy another tool, I'd think, 'There has to be someone in my neighborhood who has this,'" the graphic design manager said.
That formed the idea for Schwartz's new web site, 
Share Some Sugar
, an online neighborhood borrowing site that launched just weeks ago.
The free service, which is in Beta, has three main components. Users can offer an item to share, look for an item by neighborhood or zip code, or discuss neighborhood issues like block party plans or safety issues.
Users sign up for the service by creating a profile which allows them to list, look for items or have discussions. Currently nearly 300 items have been listed on the site including sprinklers, wheelbarrows, a carpet steamer, GPS and digital camera.
Schwartz said Cincinnati is a perfect place to launch the site because of its neighborhood awareness. The city has 52 neighborhoods and numerous suburbs. The site allows users to save money, reduce their environmental footprint, and meet their neighbors.
"That exchange - of helping someone the first time you meet them – is a good way to start off a new friendship in your neighborhood," she said.
Schwartz is promoting the site and working up the inventory through local media and social networking sites. Eventually, she plans to spread the concept to other cities.

Share Some Sugar hosts a 'neighborhood swap meet' this Sunday, December 13 at Coffee Emporium. Learn more 
here
.

Writer: Feoshia Henderson
Source:  Keara Schwartz, founders Share Some Sugar